This past weekend, our friends Kristen and Spencer got married in New Hampshire. Their intimate ceremony took place along the Connecticut River, and the setting and decor were so beautiful. It was a treat to escape hot New York City for a couple of days and to catch up with friends we hadn't seen in years.
Kristen and Spencer's wedding was the first for us this season. Usually by this point in the summer, we'd have already been to a few weddings with three or four more scheduled for late summer and fall. I think we're coming to the end of that age range when you have weddings every weekend of the summer; we've easily been to over 25 weddings in the past four years! (Crazy!)
Since I keep my eyes and ears open for unique wedding gift ideas, I thought I'd share a few ideas for brides, specifically.
Here are 9 ideas for unique wedding gifts for a bride:
1. Picnic bag with all the essentials
Picnics remind me of hot summer days, friends, bare feet, and eating, drinking and laughing until the stars come out. I love the idea of gifting a stocked picnic bag with essentials like simple utensils and plates (Sucre Shop has adorable utensils and plates made from sustainably forested and harvested Grade A birch), mason jar cups (with lids!), pretty straws and a picnic blanket (love this chambray linen one) . You could also grab a loaf of rustic bread, a few of your favorite cheeses and a bottle of rosé to add to the bag.
2. Staycation spa
Recently, I discovered Simone LeBlanc's online shop with amazing gift boxes for any occasion. This Staycation Spa for Her box would be ideal for a new bride to unwind and relax.
3. Personalized journal
The first year of marriage is full of new experiences and adventures as newlyweds. Create a personalized journal for the bride to write down memories from her first year of marriage, and beyond. For years, I've used Shutterfly to make personalized gifts including journals and notebooks (and thank you notes, holiday cards, photo magnets–the list goes on) for family members and couldn't recommend them more! They have many journal options and styles, and you can also get them in hardcover, which I love. One tip: If you're going to have the bride's name printed on the journal be sure to ask her if she's changing her last name ; )
4. Travel candles
With scents like Campfire, Fig Leaf and Fleurs de Nuit you can't go wrong with a set of Catbird travel candles. They're perfect to pack for weekend getaways, road trips and the bride and groom's honeymoon. They add an elegant warmth to any space.
5. Terrarium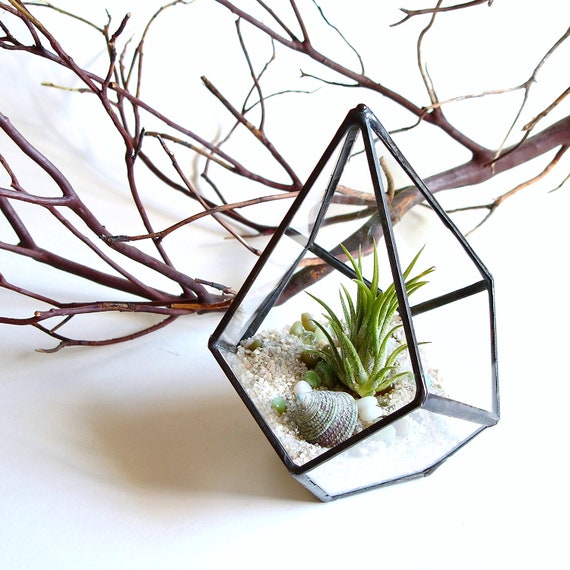 If you're up for a little gardening project, pick out a pretty terrarium and fill it with colorful succulents (tip: you can order succulent on Amazon and they're delivered right to you in order to cut down on shopping time). You can find some amazing glass terrariums on Etsy. I especially love the unique, geometric terrariums from Jechory Glass Designs.
If you're in a pinch and need a wedding gift quickly (let's be serious, this is how I roll most of the time), here are a few ideas for fast, unique wedding gifts for a bride:
6. Encouragement
Fund a Kickstarter that is related to something the bride would enjoy (Photography, Education, Fitness). If the bride has a hobby, or serious goal she's working towards, support her passion through a donation to that project. This is great for any woman who is creatively focused.
7. A night out
Pick up a gift card to her favorite restaurant. With so many things being new all at once, it's nice to have an 'old favorite' around. Encourage her to spend it however she wishes—perhaps a romantic date night or an intimate dinner with family.
8. Blue Apron
Another tried-and-true food gift (as the gift-giver, this one is incredibly easy–4 minutes and a credit/debit card and you're done)! She'll get pre-portioned ingredients as well as some delicious recipes for the week. Less time at the grocery store and more time with her spouse is a real win!
9. Disposable camera
A true  favorite of mine (CVS always has them and they're also on Amazon)! I love giving disposable cameras as gifts, especially if the person receiving it is a photography lover. They're fun and unexpected. I usually include some cash or a gift card to cover the developing costs. The best part? She can take them anywhere!
What's your favorite wedding gift for a bride? I'd love to hear your recommendations and thoughts. Of course, you can always ask if she needs/wants anything or turn to their wedding gift registry.
(Top image from my Instagram. All other images link to sources.)